Are you a roofer having trouble pricing jobs for the most profitable results? Don't worry, you're not alone. Understanding how to price a roofing job is one of the biggest obstacles to a profitable roofing business. Many roofers find themselves extremely busy without the profits to show for it.
There are many variables to consider when setting prices, including billable and unbillable hours, overhead, and labor rates, to name just a few. There are also local competition rates to consider.
For your prices to be profitable, you must account for all time and expenses. But it can be hard to know how to estimate roofing jobs if you aren't clear on how much time and material each job will need.
This roofing pricing guide will show you how to price your roofing jobs correctly and how to estimate roofing jobs to win more bids.
Flat-Rate vs Hourly Rates for Roofing Jobs
The two pricing models used most often in the roofing industry are the hourly rate model and flat-rate pricing.
Depending on what's best for your roofing business, you may decide to use one over the other or a combination of the two.
Hourly Pricing (Time + Materials)
The hourly pricing (or per hour) model for pricing roofing jobs bills the customer by the hour at a rate that covers time and materials. The total cost of the job is determined mainly by how long it takes to complete.
Hourly pricing can appeal to some customers because there's more perceived transparency in the charges. The itemized estimate shows the customer the hourly pricing and material costs. However, the customer may also start watching the clock.
The hourly pricing model also costs you more in unbillable hours. Every new project requires time spent on creating new estimates and invoices. 
Flat-Rate Pricing
The flat-rate pricing model factors in labor cost, materials, and overhead to create a set price. The customer pays a flat rate for the job, regardless of how many hours it takes to complete.
This model allows you to offer a menu of add-ons and upgrade roofing services that customers can include with the original job. You won't need to create a new estimate and invoice for each roofing project, saving you unbillable admin hours.
Pricing roofing work with a flat rate will also give customers peace of mind knowing how much they can expect to pay when the job is complete. Plus, you know exactly how much money this job will bring to your roofing business.
Roofing businesses can see significant bottom-line improvement just by incorporating flat-rate pricing. Investing in roofing estimating and invoicing software can help improve accuracy when you price roofing jobs.
Having a process to properly evaluate your customer's roofing needs upfront is critical to setting an accurate flat rate. Without a precise evaluation of the problem, you could find yourself working long hours without proper compensation.
It's just as vital that you know what the average times and materials are for each job to determine a flat rate that will be profitable. Complex jobs that require extensive labor and time and materials are largely unknown; it might be better to use a hybrid pricing model.
Hybrid Pricing 
Using a combination of the hourly & flat-rate approach for pricing roofing jobs may help.
You get more accurate pricing without cutting into profits, bringing you closer to your financial goals.
For example, some roofers use an hourly rate model on large, complex jobs while offering flat-rate prices on smaller, more straightforward jobs like roof inspection, minor hail damage repair, or smaller shingle repair jobs.
Using a hybrid model also offers flexibility when pricing roofing jobs. For instance, regardless of size, all roofing jobs will require a preliminary inspection to evaluate the problem and determine the solution.
With hybrid pricing, you can choose to charge an additional fee for the inspection while waiving it on bigger jobs. It also stops customers from watching the clock and gives you the space to do quality work.
How to Calculate Roofing Costs 
The first step to pricing a roofing job is to make sure you understand all the costs and expenses that will be included in the job.
This includes roofing shingles, tarps, nails and screws, flashing, sealants, and other supplies.
Labor costs should also be included when estimating how much it will cost for the job.
Additionally, any additional services or products needed for the job may add to the overall cost of the job.
Make sure to also factor in transportation costs and any fees associated with permits or inspections. These are all important factors that must be considered when pricing a roofing job.

Once you have established how much it will cost for the entire project, you can then calculate how much you should charge your client. To do this, you should consider the following:
How long will the job take to complete?
How much experience and expertise are needed for completion?
How competitive is the market in your area?
It's important to remember that it's essential to stay competitive and make sure you are still making a profit from each job.
How Do You Calculate Roofing Material Costs? 
It's essential to be thorough when calculating your material costs. Start with an itemized list of all the materials and supplies necessary to do the job. To calculate the exact cost of materials, use the following formula:
Total of required materials x Sales Tax at Counter = Total Materials Cost 
If the materials to repair shingles damaged by hail add up to $26.79 and sales tax in your area is 6%, for instance, your total material cost for the job is $28.40.
When pricing your roofing jobs, be sure you've considered all potential costs. Forgetting to account for expenses will cut into your profit margin and potentially embarrass you in front of the customer.
Here are some possible costs and expenses to include in your roofing estimate:
Scaffolding needs
Removing or replacing old boards and shingles
Debris removal from the job site
Correcting any violations to existing roofing code in old or neglected properties
Providing roofing materials like nails, sealants, screws, and tarps
Repairing or replacing damaged flashing or chimney
Any required permits
How Do You Calculate Labor Costs for Roofing? 
The first step in calculating roofing labor cost is determining your hourly base rate. That's the amount you pay your employees or yourself before adding material and overhead costs.
You should factor in each worker's experience when determining the base rate. For instance, more experienced roofers may warrant a higher hourly rate than less experienced ones. Additionally, you'll want to include any additional fees, such as travel time or overtime, in the calculation.
To estimate your roofing labor costs, take the amount of money you'd like to earn every week and divide it by the number of billable hours you work.
Weekly Income ÷ # of Billable Hours per Week = Hourly Base Rate 
For example, let's say you want to make $900 in a 40-hour work week. Out of those 40 hours, only about 55% will be billable. The other 45% is spent on unbillable things like driving to jobs and administrative tasks. That leaves you with 22 hours of billable time.
We'll divide your $900 weekly income by the 22 billable hours and get an hourly base rate of $40.91, which we'll round up to $41.
How Do You Calculate Roofing Overhead? 
Roofing overhead is the cost of materials, labor, and any other expenses related to roofing a home or business.
To calculate how much roofing overhead you'll need for your project, start by determining how much material will be required for the roof. This typically involves factoring in the size and shape of the roof and the type of materials used.
Next, add up how much it will cost to install the materials. This typically includes costs such as labor, tools, and any additional supplies.
Finally, factor in how much time it will take to complete the project so you can estimate how much it may cost for that labor.
When all these factors are considered, you should know how much it will cost to complete the roofing project.
Overhead costs can include the following:
Business equipment such as computers, printers, or cell phones
Rent and utilities
Employee salaries
Permits and licenses
Safety equipment
Roofing tools such as ladders, a roofing nail gun, air compressor, and pry bar.
Vehicles, fuel, and maintenance
Taxes and business insurance
Roofing advertising and marketing
Roofing business management software
Credit card processing fees
Employee benefits
Calculate your hourly overhead costs by dividing your yearly overhead costs by the number of billable hours per year. The reason we use a whole year to calculate overhead is to address seasonality.
Total Yearly Overhead Costs ÷ # of Billable Hours per Year (Total Number of Employees x Hours They Work Over the Week x 52 Weeks) = Hourly Overhead Costs 
For example, if your roofing business's total yearly overhead costs are $42,000 and we divide it by your team's 4800 billable hours a year, your hourly overhead costs are $8.75.
Once you've determined your hourly overhead cost, you'll use that to determine your overhead expenses per job. To calculate the overhead costs for an individual roofing job, use the formula below:
Hourly Overhead Costs x # the Hours to Complete the Job = Overhead Cost for the Job 
Going back to our earlier example, if removing a section of shingles will take an hour and a half to complete, we'd multiply $8.75 by 1.5 for a total overhead cost of $13.13.
How to Determine Competitive Rates/Pricing 
It would help if you struck a balance between competitive pricing and profitability. There's a fine line between staying competitive and racing your competition to the bottom of the bargain basement.
Doing Competitive Research 
You can use the rates and prices of the competition to measure how reasonable your prices are. However, it might be better to use the competition to assess your cost of operation. If you are way above or below your competitors, you should reevaluate and adjust your rates.
But don't try to match the competition's rates exactly. Their costs, overhead, and goals will undoubtedly be different from yours. If you try to fit your prices to the competition rather than your unique process, charges, and objectives, you will undoubtedly cut into your profits and affect your bottom line.
Remember that you can set yourself apart from the competition with more than just lower prices. Most people are willing to pay for top-notch customer service and efficient, quality work.
What is the Ideal Profit Margin for Roofing Companies? 
Your profit margin is the money you've made after you've paid your employees and covered materials costs and overhead.
The average profit margin for a roofing company is between 20 to 40 percent. Your ideal profit margin will depend on your costs and financial goals.
How to Calculate Roofing Profit Margin 
To calculate your existing profit margin, start by calculating your net profits by using this formula:
Total Revenue – Material Costs – Labor Costs – Overhead Costs = Net Income 
Once you have your net income, you can determine your profit margin using this formula:
Net Income / Total Revenue = Profit Margin   
To include your profit margin on the cost of materials for a particular job, use the formula below:
Total Project Material Costs + (Total Project Material Costs x Profit Margin) = Total Project Material Costs 
You can begin to set ambitious, achievable goals based on your current profit margin. You may need to determine which profit margin will best help your roofing business reach its financial goals.
How to Calculate Roofing Markup 
Markup is a key concept when it comes to pricing for roofing services. How much you decide to mark up the cost of materials, labor, and other expenses will determine your business's profitability.
Knowing how to calculate your markup can help you make sure that you are charging appropriately for the work that you are doing.
Markup refers to the difference between your cost and the price charged to the customer. Adding a markup to the cost of materials accounts for both overhead and profit. Calculate your markup percentage by using this formula:
(Selling price – Your cost)/Your cost x 100 = Markup percentage  
For instance, if you pay $10 for roofing materials and charge your customer $15 for them, you have a markup of 50% on your materials.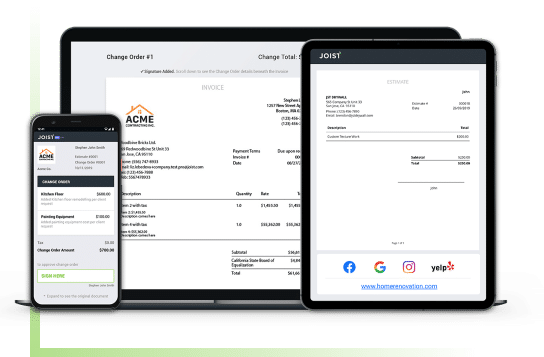 How to Create a Professional Roofing Estimate 
Creating a professional roofing estimate can seem like an intimidating task. However, with the right approach, it doesn't have to be.
Before getting started, it is important to understand what goes into making an accurate and professional roofing estimate. Here are some tips and tricks to help you get started:

Measurements – Take precise measurements of the area you need to work on before giving a quote. Knowing the exact dimensions will give your customer confidence in your accuracy and attention to detail.

Material Choices – Explain different types of materials available for their project so customers have a better understanding of what's best for their budget and needs.

Labor Costs – Calculate labor costs
Knowing how to estimate roofing jobs accurately will make the difference between making a profit and taking a loss.
After establishing how you are pricing roofing jobs, you'll still need to determine how much to charge for each project. To create an estimate, follow these steps:
Total the cost of materials, including parts, and disposal.
Determine total labor costs.
Calculate the total cost of the project.
Incorporate profit margin.
Compare the total to the roofing pricing guide to stay reasonable.
Once you've determined your price for the job, you want to create a professional roofing estimate.
Presenting a potential customer with a professional-looking, branded document is the first step to establishing yourself as an expert and winning the bid. A professional roofing estimate should include the following elements:
Business name and logo
Business contact information
Client name and contact information
A quote/estimate number
A detailed breakdown of the service you'll be providing, materials, and costs
The total cost for the service, including taxes
The date that the estimate expires
In the roofing business, time is money. And time spent creating estimates and invoices is unbillable time. Joist, an estimating and invoicing app, allows roofing contractors to develop and deliver accurate estimates in just minutes.
Our easy-to-use mobile estimating tool will add more billable hours to your week. Joist lets you build custom estimates, invoices, work orders, and more from any web-connected device.
Need to estimate a roofing job?
Joist can help.