Save time, win more jobs, and get paid faster with quick estimates, professional invoices, and payment tracking, all in the Joist mobile and web app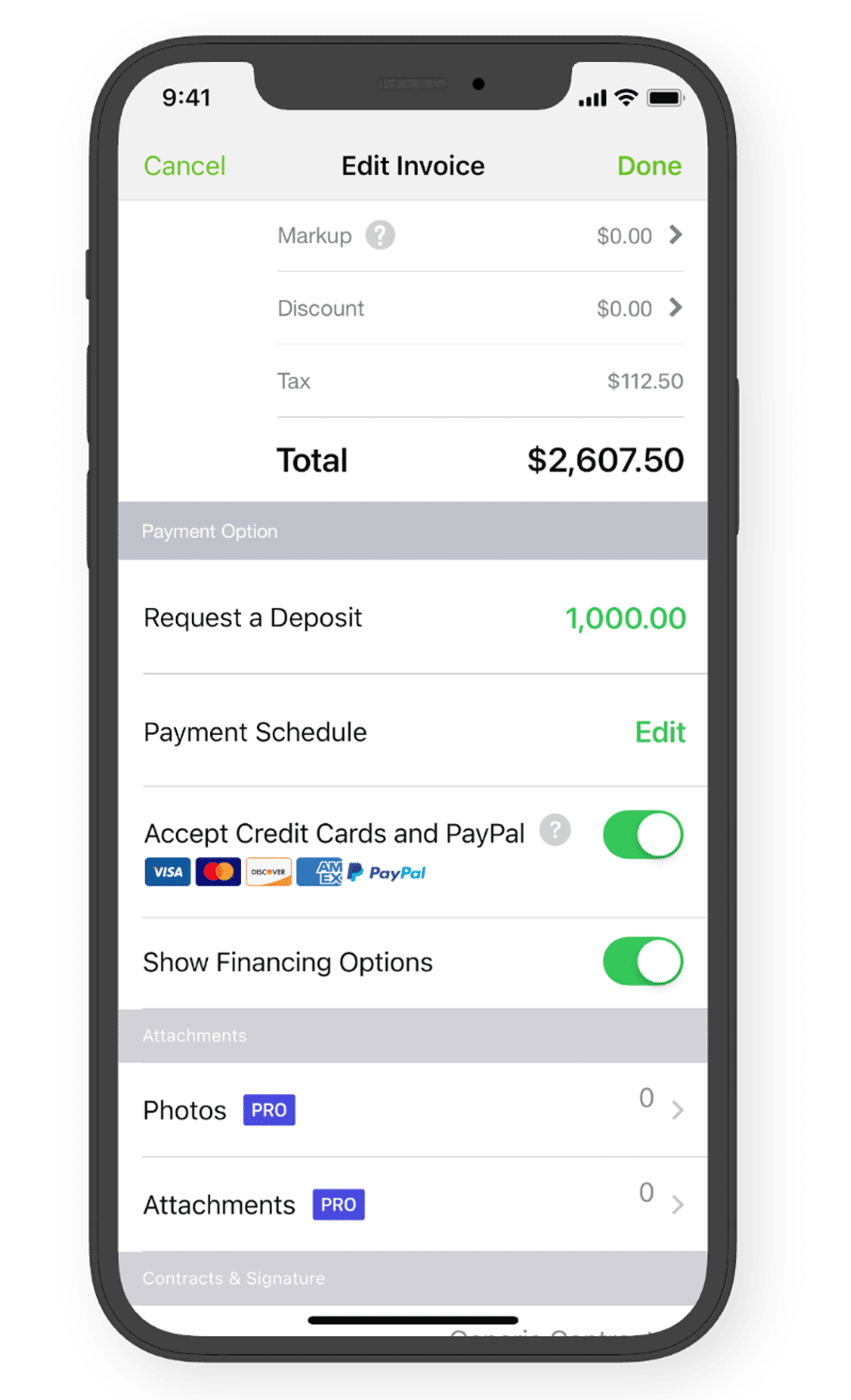 ESTIMATES
Win more clients on-the-spot, with detailed, and professional estimates.
PAYMENTS
Easily accept payments online to save time, get paid faster, and avoid unnecessary trips to the job site.
QUICKBOOKS SYNC
Automate your bookkeeping by syncing Joist jobs and clients with Quickbooks Online accounts.
INVOICES
Customize professional invoices with your logo and send with few clicks.
HOMEOWNER FINANCING
Land more jobs, win more upsells, and get paid faster by offering financing options.
CLIENT MANAGEMENT
Store all of your client information securely in one place, accessible from your mobile device and the web.
Explore All Features
Easily accepted payments – by credit card, debit card, or online – and get more of your invoices paid.
SEE HOW IT WORKS
Learn why over 1 million contractors have trusted Joist to manage their business
Purpose-Built For
All Contractors
We're on a Mission
At Joist, we're committed to helping contractors reach their full potential. We provide software solutions that make working with clients and managing business simple. Our mission is to empower contractors to be heroes, as they work hard to solve problems and find solutions for home and property owners every day.
LEARN MORE
Trusted by Contractors Like You
So simple, professional, and gives the customer so many options to pay including financing and credit cards. It has upped my business sales 35%-45%.
- Joe Goossens
The solution to my problems! After trying many invoice apps, I finally came across this one after a friend of mine recommended it to me. It makes jobs flow easier because of its simplicity and great design. I would recommend this app to every contractor for any trade!
- Desert Innovations Landscape
Joist allows my customers to pay online, saving me trips back to the job to pick up checks. Have I mentioned that I love this app? It is a contractor's dream.
- Michael Ward
Wow! My world became so much easier with the Joist App. Estimating jobs was cut over 1/2 of my time normally. Invoicing brought me to a higher level in my business than ever before. The comments I get from my customers about the app says they love it, love it, love it. I'm looking forward to the future with Joist Pro!
- JC Design Co.
I needed a professional estimate and invoice app that I could update and edit without having to be at a computer. Easy to make changes on the go. Access to all invoices and estimates from my phone, tablet or computer. It's a great app that is simple to use and looks professional.
- Jacobie H.
Win More Jobs. Save Time.
Get Paid Faster.