Underestimating or missing key details when quoting a painting job can cost you time and money. If you're not careful, you could end up making less money than you expected or taking on more work than you can handle.
Estimating a painting job can seem daunting, but it doesn't have to be. By following these seven steps, you can create a more accurate estimate and avoid costly mistakes.
Step 1: Do Your Painting Job Pre-Check
There are a few pre-checks that you want to do upfront that will help you create a more accurate estimate. By taking the time to do these checks in advance, you'll save yourself time and headaches down the line.
Ask the Right Questions
Asking your clients smart questions from the outset will save you time and money by getting all the information you need to accurately estimate a painting job. And by being thorough in your questioning, you'll also establish trust and rapport with your clients.
Here are some questions to ask your prospective clients:
What is the timeline for the project?
Is your client hoping to have the job done in two weeks or two months? Knowing their timeline will determine whether you're able to commit to their project and help you plan for other projects you may have scheduled.
Are the doors, window frames, and door frames being painted?
Doors and windows usually need to be painted separately from the rest of the wall, which will add additional time to the job. And since they are "high-use" areas that get more wear and tear, they may require a more expensive grade of paint.
How many colors will need to be used?
If your client wants their living room painted one color and their kitchen painted another, that's obviously going to require more work (and more paint) than if they want both rooms painted the same color throughout.
Are there any special instructions?
Some clients may have specific instructions regarding their project, such as using only eco-friendly paint. It's important to ask about any special instructions upfront so that you can factor them into your estimate and avoid any misunderstandings down the road.
Inspect the Current Site
When you provide an estimate without performing an on-site inspection, you're essentially flying blind. There are several factors that can impact the bottom line of a painting job. And many of them can only be assessed by seeing the property in person.
One of the first things you'll want to think about when inspecting a job site is accessibility. Can your crew easily get to the work site? Is there a long walk from the parking area to the job site?
These factors can impact both your schedule and bottom line. If special equipment is necessary just to access the job site, then you'll want to include that rental fee in the estimate.
If you're working outdoors, check for things like trees, bushes, or ivy that will need to be trimmed or removed before painting.
The conditions of the areas and surfaces that will be painted is a critical step. Are the walls in good condition with minimal prep work required? Or do they have cracks and holes that need to be patched first?
The more prep work a job requires, the more time you need to account for in your estimate for it to be profitable. And what about those pesky trim moldings? The more detailed and intricate they are, the longer it will take to complete the job.
The type of paint that was previously used can also impact your painting job estimate. Oil or lead-based paints could require special chemicals and equipment to remove, which could potentially add hours (and dollars) to the job.
Address Building Codes & PCA Standards
As a professional painter, it's important to be up to date on the latest building codes and industry standards. Staying informed of codes and standards helps to ensure that your next painting job meets all the necessary requirements.
In general, most residential painting jobs are considered exempt from permitting. Commercial jobs, on the other hand, often do require permits. It's always best to check with your local building department before starting any contract work.
Many states now require that all new construction meet certain energy efficiency standards, which can often be achieved by using specific types of paint or painting techniques.
Other changes to building codes that could potentially effect painters include new fire safety regulations, accessible design requirements, and green building standards.
The Painting Contractors Association (PCA) establishes industry standards, ethical guidelines, and best practices for completing painting jobs quickly and efficiently.
These standards include everything from employee training requirements to clean-up procedures. While meeting these standards can help painting contractors run their businesses more effectively, they also add to the overall cost of doing business.
Step 2: Measure the Space
The cost of a paint job is largely dictated by the size of the area being painted. You can estimate how many gallons of paint you'll need by measuring the room's exact surface area with these three steps:
Find the surface area of the walls by measuring the perimeter of the room, then multiplying this number by the height of the room.
Find the surface area of unpaintable sections by measuring each window, door, cabinet, and other sections that won't be painting.
Subtract doors, windows, and cabinets from your wall surface area.
If you're painting trims, baseboards, and ceilings, use the same method to measure the area of each. To find the total paintable area for a house's exterior:
Measure the perimeter of the house, then multiply by the height of the house.
Subtract the area of doors and windows from the house's surface area.
Be sure to measure the garage door, trim, soffit, and any other elements that will be painted.
Step 3: Estimate Painting Material Costs
Estimating painting material costs can be tricky. Painting jobs can vary widely in scope and size. And the type of paint and materials you'll need will depend on the surface you're painting and the style of painting you want to achieve.
Tips for Estimating the Cost of Paint
There are some general guidelines you can follow to get a rough estimate of how much paint and other materials you'll need for your painting job. When estimating how much paint you'll need, consider the following questions:
Are you painting an interior or exterior? Interiors typically require more paint while exterior paint is typically more expensive.

Are you painting the ceilings, doors, and trim as well? This will require more paint and potentially different colors and types of paint than if you were painting only the walls.
Is it new construction or an existing repaint job? A new house will need more paint and caulk to cover unpainted drywall. 
What color(s) of paint are you using? Depending on the color you're painting over and the desired finish, you may need two or even three coats of paint. This will obviously increase your costs, so be sure to take it into account when estimating your price.
Are your measurements thorough and accurate? Don't rely on your customer's measurements. Take your own measurements and then double check them.
What type(s) of paint will you need? The type of paint you use can affect your paint costs. For example, latex paints are typically cheaper than oil-based paints.
However, latex paints require more frequent reapplication, so your overall costs may be higher in the long run. Additionally, certain finishes, such as semi-gloss or high gloss, will also cost more than others.
After verifying your measurements, you can consult a painting calculator or chart to determine the estimated amount of paint required for the job.
Keep in mind that this is just an estimate. Ultimately, it's always best to err on the safe side and buy slightly more paint than you think you'll need.
Interior vs Exterior Painting Costs
The average one-coat interior paint costs between $20 to $50 per gallon, with higher-end paints costing over $60. One gallon of paint will typically cover 300 to 400 square feet of wall or ceiling.
Exterior paint can cost on average between $25 and $80 per gallon. One gallon of exterior paint can cover between 250 and 400 square feet with one coat, depending on the exterior material. For example, painting a textured surface like stucco can take almost twice as much paint as vinyl.
It's always a good idea to use higher quality paint. High quality paint will give better coverage with fewer coats and leave a quality finish.
Tips for Cleaning/Preparation Costs
It's important to factor into your estimate the cost of cleaning and preparing the surface to be painted. In some cases, the surface may not require much in the way of preparation. However, in other cases, such as painting over existing paint or wallpaper, more extensive preparation may be necessary.
Any time you're painting over a previously painted surface, you're going to need to do some sanding first. Sanding smooths out bumps, giving the paint something to grip onto.
The type of paint that was used originally and the condition of the surface will determine the amount of sanding needed. The cost of sanding will depend on the size of the area, as well as the type of sander being used (handheld or orbital).
You may find some holes or cracks that need to be patched before painting. The cost will again depend on the size of the area that needs to be patched, as well as the type of compound being used.
In some cases, you may need to remove wallpaper before painting. This is usually a difficult and time-consuming task, so it's important to factor in the additional time and labor when estimating costs.
In general, plan on spending about one hour per 100 square feet removing wallpaper. So, if you're dealing with 1,000 square feet of wallpaper, budget for 10 hours of removal time.
All surfaces should be cleaned before painting. This is especially important if there are any grease or oil stains that can affect how well the new paint adheres to the surface.
The cost of cleaning will depend on the type of cleaner and how much surface area needs to be cleaned. The time it takes to clean walls varies depending on their condition.
On average, plan on spending about 30 minutes per 100 square feet cleaning walls that have been previously painted and one hour per 100 square feet cleaning bare walls.
If the painting job requires primer, plan on spending between $30 to $70 per gallon, depending on the type of primer. And because one gallon of primer will only cover 200 to 300 square feet, you'll need a bit more primer than paint.
Tips for Estimating Supporting Material Costs
It's important to be thorough when calculating your material costs. Start with an itemized list of all the materials and supplies necessary to do the job. To calculate the exact cost of materials, use the following formula:
Total of required materials x Sales Tax at Counter = Total Materials Cost 
If the cost of the painting materials for a job is $100 and sales tax in your area is 6%, for instance, your total material cost for the job is $106.
When pricing your painting jobs, be sure you've considered all potential costs. Forgetting to account for expenses will cut into your profit margin and potentially embarrass you in front of the customer. Here are some possible costs and expenses to include in your painting estimate:
Painter's tape
Masking paper/plastic
Drop clothes
Caulk
Paint brushes, roller frames and roller covers
Paint trays
Sandpaper
Cleaning supplies
Any equipment rental fees
Any required permits
Garbage and debris removal from the job site
Estimating Software for Plumbers
Step 4: Estimate Labor & Rental Costs
Many painting projects require the use of specialized equipment, which can be expensive to rent. In addition, the project may require the use of multiple workers to complete the job in a timely manner.
As a result, it is important to get an accurate estimate of the labor and rental costs related to a professional paint job. Luckily, there are a few easy ways to get an estimate of these costs.
Estimating Labor Costs
Once you've inspected the job site and estimated how long the job will take, it's time to estimate your labor costs. First, to find the total number of labor hours, use the following formula:
# of people on the job x # of hours spent on the job = Total labor hours 
For example, if you have four people working a job for eight hours, your total labor hours are 32 hours. Next, calculate your hourly labor cost by totaling each painter's salary plus taxes, workers' compensation, and any other employee-related expenses.
Then, to find the total labor cost of the paint job, use the following formula:
Labor hours x hourly labor cost = Total labor cost 
If your hourly labor cost is $30 with a total of 32 labor hours, your labor cost for the job would be $960.
There are several things that could attribute to extra labor costs. Things like hard to access areas, extensive preparation and clean up, damaged walls, and the need for additional coats will all contribute to increased labor costs.
Estimating Rental Costs
The cost of painting supplies and equipment can add up quickly. One way to save money is to rent rather than buy certain items. This is especially true for expensive items or large items that would be difficult to store when not in use.
For example, you might want to rent scaffolding rather than buy and storing it. The same goes for paint sprayers, aerial lifts, and other larger pieces of equipment.
But how do you know what's worth renting and what's worth buying? Here are some tips:
Rent when the job is short-term or one-time.
If you're only going to need a piece of equipment for a short period of time, it doesn't make sense to buy it outright. Instead, rent it and return it when you're done.

Buy when the job is long-term or recurring.
If you're going to be using a piece of equipment frequently or for an extended period, it may make more sense to buy it rather than rent it.

Consider the cost of maintenance and storage when renting or buying.
Maintaining and storing rented equipment can be expensive, so this must be factored into the overall cost of the job.
Step 5: Account for Overhead & Profit Margin
Once you've calculated the cost of materials and labor, it's time to account for overhead and profit margin.
Determining Overhead
Overhead includes all the costs of running your painting business that aren't directly related to a specific job, such as marketing, insurance, and rent. Overhead costs can include:
Business equipment such as computers, printers, or cell phones
Rent and utilities
Salaries
Permits and licenses
Vehicles, fuel, and maintenance
Taxes and business insurance
Advertising and marketing
Business management software
Credit card processing fees
Employee benefits
Reusable equipment like high-pressure paint spray guns

Calculate your hourly overhead costs by dividing your total yearly overhead costs by the number of billable hours per year. To address businesses affected by the seasons, we use a full year to calculate overhead.
Total Yearly Overhead Costs ÷ # of Billable Hours per Year (Total Number of Employees x Hours They Work Over the Week x 52 Weeks) = Hourly Overhead Costs 
For example, if your painting business's total yearly overhead costs are $42,000 and we divide it by your team's 4,800 billable hours a year, your hourly overhead costs are $8.75.
Once you've determined your hourly overhead cost, you'll use that to determine your overhead costs per job. To calculate the overhead costs for an individual painting job, use the formula below:
Hourly Overhead Costs x # the Hours to Complete the Job = Overhead Cost for the Job 
If a paint job will take three and a half hours to complete, we'd multiply $8.75 by 3.5 for a total overhead cost of $30.63 (rounded up).
Calculating Painting Profit Margin
Your profit margin is the percentage of "net earnings" you've made after you've paid your employees, covered materials costs, and addressed overhead. Understanding and incorporating profit margin into your final pricing help you to reach your financial goals.
To calculate your existing profit margin, start with calculating your net profits by using this formula:
Total Revenue – Material Costs – Labor Costs – Overhead Costs = Net Income  
Once you have your net income, you can determine your profit margin using this formula:
Net Income / Total Revenue = Profit Margin 
To factor your profit margin into the pricing for a particular job, use the formula below:
  Total Project Material Costs* + (Total Project Material Costs* x Profit Margin) = Total Project Pricing
   *Total project material costs include labor.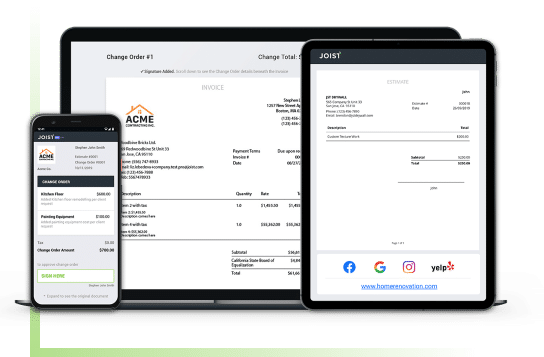 Step 6: Create the Painting Estimate
After you've gathered all the information about the painting job, it's time to start creating the estimate.
How to Write a Paint Job Estimate
When creating your paint job estimate, be sure to include the following:
A detailed outline of the scope of the project, including all the tasks from prep work to cleanup.
A breakdown of paint and other materials.
The total cost of the job including labor costs, material costs, overhead, and profit margin.
A date that the estimate expires.
Paint Job Estimate Templates
Presenting a potential customer with a professional-looking, branded document is the first step to establishing yourself as an expert and winning the bid. But you don't need to start from scratch each time.
Use a professional painting estimate template that you can plug details into for each client.  Be sure your template includes:
Business name and logo
Business contact information
Client name and contact information
A quote/estimate number
Detailed breakdown of the service you'll be providing, materials, and costs
The total cost for the service, including taxes
Expiration date of the estimate
Step 7: Deliver the Estimate
Now that you've created an accurate painting job estimate, it's time to deliver it. Write an effective email to accompany your estimate. Here are a few things to include:
A clear subject line—At a glance, your prospect should understand why you're emailing. Stick to a simple subject line that can't be misunderstood.
Personal attention—Don't send an impersonal form email. In your email, address the homeowners by name and re-establish the details of the painting job you are estimating.

Instructions on how to view the estimate—If you attach it to the email, make sure to call it out, so the prospective client doesn't miss it.

Next steps for moving forward with the painting job— make sure your potential customer knows exactly what to do when they're ready to hire you for the project. Then close out the email with a thank you and your contact information.
Joist, an estimating and invoicing app, allows professional painters to create and deliver accurate estimates in just minutes.
Our easy-to-use mobile estimating tool will put more billable hours back into your week. Joist lets you build custom estimates, invoices, work orders, and more from any web-connected device.
Need to estimate a paint job?
Joist can help.