Although it may seem tedious, estimating a construction project is crucial to the success of your construction company.
If you don't estimate how much a job will cost before you complete it, you could end up shortchanging yourself or becoming overwhelmed by a project you can't currently handle.
The thought of creating a construction estimate may be intimidating if you don't have much experience with it. But it doesn't have to be.
In this article, we'll detail the 7 steps you can take to create an accurate estimate that maximizes your profit.
Step 1: Do Your Construction Job Pre-Check
It's impossible to accurately estimate a construction project if you don't know the scope of the job. That's why your estimating process should always start with a pre-check of the site to get an idea of what's required.
Ask the Right Questions
Collect as much information as you can from the client upfront. This will help you determine the project criteria and create a more precise estimate. The more accurate your estimate is, the more time and money you'll save down the line.
Plus, starting these conversations now will help you build a positive relationship with your client.
Here are a few questions to ask clients during your pre-check:
What's your ideal project timeline?
What's your budget?
Can you share your vision for the final project?
What changes do you want to make to the building?
Are you hiring other building professionals or subcontractors?
What concerns do you have about this project?
Inspect the Current Site
Assessing a potential construction site in person is essential before creating an estimate or putting in a bid. There are many onsite factors that can affect how you approach the job and your final bottom line.
For instance, you must inspect the site for accessibility. Will your crew be able to easily access the areas where they need to work? If not, what equipment will you need to make that happen?
You should also evaluate the condition of the job site. Are there existing structures that are in good condition? Or will any need to be removed? Will you need any special equipment or materials to build on the landscape?
Inspecting for factors like these tells you if you need to include more equipment, labor time, and other costs in your construction estimate.
Address Building Codes & PCA Standards
As a construction professional, part of your job is to be informed about the latest building codes and permit requirements in your service area. This ensures that your team and their work can meet all the necessary requirements.
Construction building codes typically include regulations around safety, structural stability, and energy efficiency. They vary based on your state and locale, so make sure you're familiar with the codes that apply to you.
Step 2: Put Together an Assessment
Once you've finished your construction site pre-check, catalog all the information you've learned. Having everything you need to know to create your estimate in one place will make the process much quicker and easier.
Here are some examples of details to include in your assessment:
Materials and labor required for each project phase
Observations from site inspection
Any site problems that must be addressed
Environmental elements to consider (e.g., soil composition, protected areas nearby, steep terrain)
Site measurements
Site photos
Any architectural blueprints/drawings
Step 3: Estimate Construction Material Costs
Because they're usually the most straightforward expenses, we recommend starting your construction estimate by calculating your material costs.
Construction materials include things like wood for framing, flooring, brick or stone for building, and so on.
You can shop around to get a good idea of the cost of the materials in the quantity you'll need. Or, if you have established relationships with suppliers, ask them for quotes.
Before you seek material quotes, make sure you know
How the material is sold (e.g., cubic feet, sheets, bundles)
How much square footage each unit covers
Price per unit
Project site square footage
Estimating Software for Construction
Step 4: Estimate Labor & Rental Costs
After you've estimated the cost of the materials you need for your construction project, it's time to do the same for labor and equipment rentals.
Some jobs may require you to rent special equipment or employ multiple workers to complete the work on time. It's important to factor those expenses into your official estimate.
Estimating Labor Costs
With the information from your job site pre-check and assessment, you should be able to accurately estimate how much labor the project will require and how long it'll take. You can use these two components to estimate your labor costs. Use the following formula:
# of people on the job x # of hours spent on the job = Total labor hours 
For example, let's say you're going to need 5 workers on your team. And it'll take two weeks of working 8-hour days to finish the job. That's 112 hours (14 days x 8 hours) for 5 workers, which makes your total labor hours 560 (5 workers x 112 hours).
Next, calculate your hourly labor cost by adding up each worker's salary plus taxes and any other employee-related expenses, like worker's compensation.
Then, to get the total labor costs for the construction job, use the following formula:
Labor hours x hourly labor cost = Total labor cost 
So, if your hourly labor cost is $20 and the job requires 560 total labor hours, your total labor costs would be $11,200.
If you're going to need to subcontract out any work for the project, don't forget to include those costs in your estimate too.
Estimating Rental Costs
Construction jobs often require the use of a lot of expensive tools and machinery. Sometimes, it makes more sense and saves you more money to rent some of the equipment you don't use as often.
There are pros and cons to both renting and buying certain equipment. Which equipment you'll want to rent vs. buy depends on the type of work you do. You'll also want to consider other factors such as maintenance costs, transportation, and storage.
Generally, though, it's recommended that construction companies buy any equipment they're going to use 60-70% of the time.
Step 5: Account for Overhead & Profit Margin
The last costs to factor in when you make an estimate for construction work are your overhead and profit margin.
Your overhead costs are the expenses of running your business. These aren't connected to specific projects, so they must be factored into each job.
Your profit margin is the percentage of profit you'll make on a project. Including profit margins in each estimate is crucial to ensuring your construction company's revenue exceeds the operating costs.
Determining Overhead
Calculate your hourly overhead costs by dividing your total yearly overhead costs by the number of billable hours per year. To address businesses affected by the seasons, we use a full year to calculate overhead.  
Total Yearly Overhead Costs ÷ # of Billable Hours per Year (Total Number of Employees x Hours They Work Over the Week x 52 Weeks) = Hourly Overhead Costs 
For example, if your construction business's total yearly overhead costs are $42,000 and we divide it by your team's 4800 billable hours a year, your hourly overhead costs are $8.75.  
Once you've determined your hourly overhead cost, you'll use that to determine your overhead costs per job. To calculate the overhead costs for an individual construction job, use the formula below:  
Hourly Overhead Costs x # the Hours to Complete the Job = Overhead Cost for the Job 
If a job will take three and a half hours to complete, we'd multiply $8.75 by 3.5 for a total overhead cost of $30.63 (rounded up).  
Here are some overhead items you might need to consider as a construction contractor:
Business equipment such as computers, printers, or cell phones  
Rent and utilities  
Salaries 
Permits and licenses 
Vehicles, fuel, and maintenance  
Taxes and business insurance  
Advertising and marketing  
Business management software 
Credit card processing fees  
Employee benefits  
Construction tools like hammers, saws, shovels, concrete mixers, employee PPE, and so on
Calculating Construction Profit Margin
To calculate your existing profit margin, start by calculating your net profits using this formula:    
Total Revenue – Material Costs – Labor Costs – Overhead Costs = Net Income  
Once you have your net income, you can determine your profit margin using this formula:  
Net Income / Total Revenue = Profit Margin 
To include your profit margin on the cost of materials for a particular job, use the formula below:  
  Total Project Material Costs* + (Total Project Material Costs* x Profit Margin) = Total Project Pricing
   *Total project material costs include labor.
To include your profit margin on the cost of materials for a particular job, use the formula below:  
What is the Ideal Profit Margin for a Construction Business?
A profit margin of at least 15% is considered ideal for the construction industry. But depending on a contractor's specialty, that ideal percentage could be as high as 45%.
In the first three quarters of 2022 so far, the average gross profit margin for construction services has ranged from approximately 25%-28%.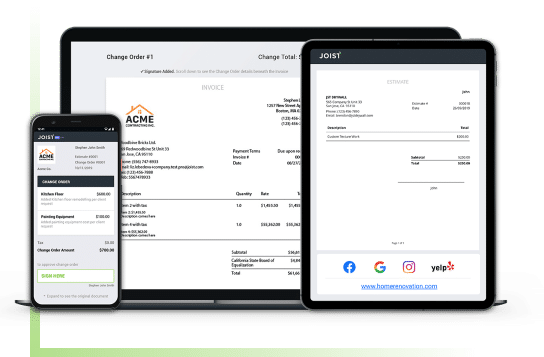 Step 6: Create the Construction Estimate
Now that you've done the groundwork for your construction estimate, it's time to put everything together. Creating a formal construction estimate lays out all the project costs in one place for both you and the client.
How to Write an Estimate for a Construction Job
To ensure you include all relevant information in your construction estimate, follow this checklist for items to cover:
A detailed project scope outline/description of work being done from prep to cleanup
List of materials needed
Itemized breakdown of material, labor, equipment rental, overhead, and profit margin costs
Total cost of the job
Payment terms and due dates
Estimate expiration date
Company contact info
Construction Estimate Templates
You should be making a construction estimate for every job you bid on. That means you'll be going through this process a lot.
One way to save time and make things easier on yourself is to create a construction estimate template. This way, you can just plug in the details for each individual client instead of starting from scratch every time.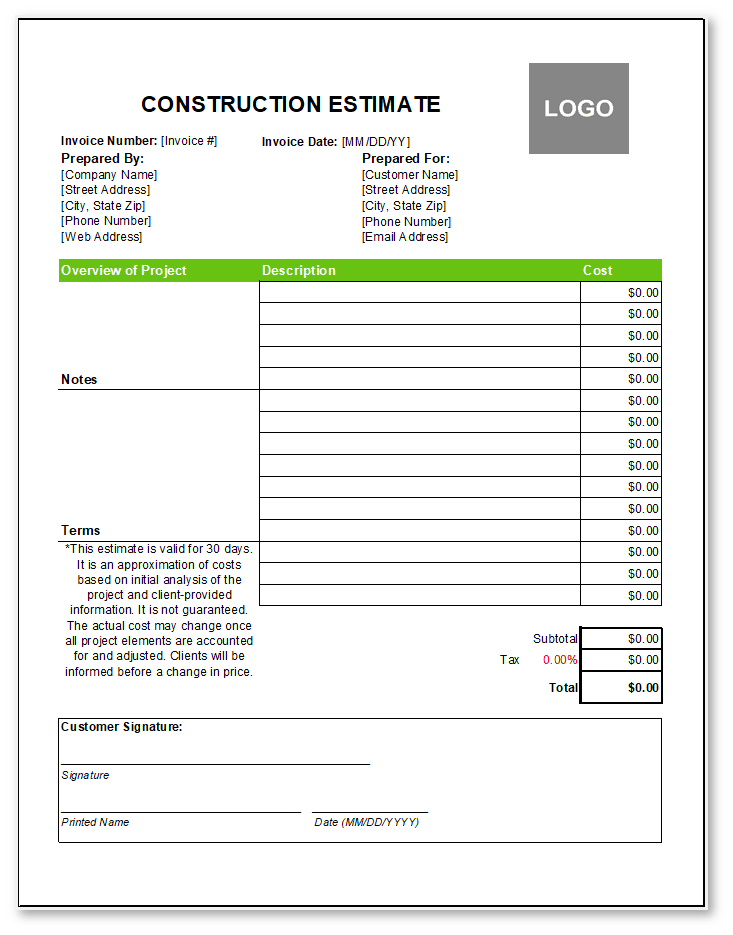 Here's what your estimate template should include:
Business name and logo
Company contact information
Client name and contact information
Itemized breakdown sections for services provided, materials needed, and cost estimates
An area to list the total job cost, including taxes
Estimate expiration date
KEEP READING: How to Write an Invoice for Construction Work (with Free Template)
Step 7: Deliver the Estimate
Congratulations, you've finished creating your construction estimate! Now, it's time to deliver it.
The easiest way to deliver your estimate to clients in most cases will be via email. Here are a few things your estimate email should include:
A straightforward subject line. Remember, you're not trying to hook the prospect with your estimate email. Keep the subject line clear so the prospect knows why you're emailing them.
Personalization. It's okay to have a templated format for your estimate email, but don't forget to make it personal to each prospect. Address the prospects by name and reiterate the details of the job you're estimating.
How to view the estimate. Make sure the prospect doesn't miss the actual estimate by telling them how to view it, such as specifying that you've attached a document for them to download and/or the link where they can access it.
Next steps. After receiving your estimate, it should be clear to your prospect what to do next if they want to move forward with your services. Detail the next steps for working with you, then close out the email by thanking them and sharing your contact information again.
Need to estimate a paint job?
Joist can help.